The day I first saw Peta Morris I impulsively chased after her through the crowd at the market we were at to ask if I could take her photo. "What a wonderful, bold, interesting lady?" I thought to myself.
Her energy and obvious zest for all things creative stood out to me as she carried her newly acquired potted cactus smilingly passed my stall.
Fascinated, I did a bit of Insta-stalking and I learned about the current work Peta does teaching kids visual arts at her home studio called The Kid Creative.
With the visual & tactile creative arts generally undervalued in our society, what a wonderful opportunity it is for kids to be allowed to explore their innate creativity and individual expression! To be able to allow kids to start examining themselves & thinking for themselves rather than being fed someone else's ideas all the time is a marvelous thing.
So with my 4 year old in tow, off we went to Peta's gorgeous northern beaches home set on a hill with national park & the ocean nearby. I would describe her home as "full of adventure". Chooks, a beehive & veggie patch out the back, many paintings on the wall reflecting diverse interests, antiques, plants, loads of light & music playing. All set on the backdrop of complete peace.
Peta herself is a visual artist, singer, a mother to 2, wife, crafter, yoga teacher, home maker and volunteer art teacher.
We live in a society that seems so focused on leading a certain "perfect life" as prescribed by the media, culture, social acceptability & consumerism. After meeting with Peta I learned that you can be many things. And it's ok. You can try many things in your life. And it's ok. You can explore, venture, experience and take risks …. and this is where the richness of life comes from.
I knew I chased after her that day at the market for a very good reason!
I hope you get as much out of reading Peta's interview as I did because she IS AMAZING!
1

.

What were you doing directly before The Kid Creative?
I
was
e
x
h
i
b
i
t
i
n
g
a
r
t
w
o
r
k,volunteering teaching art to children and adults in a Villawood Detention Centre, teaching adult students privately, doing some gigs singing, stay at home mother, and teaching yoga during school holidays down the south coast.
2.

H

o

w

&

w

h

y

d

i

d

The Kid Creative Come about?
My
youngest daughter started
s
c
hoo
l
l
a
s
t
year and
I
was
pretty shocked at the lack of art within the school curriculum. ( I should add primary teachers in the public
system have
to wear many hats and they do a great job, if I was asked to teach Math, I'd drown in numbers.) So I volunteered doing two art projects with her class and from there, The Kid Creative was born.
3.

What

i

s

i

t

that

you would like your students to come away with?
I
want students whether
they are kids or adults to leave the studio feeling inspired, knowing that art is much more than straight lines and pretty pictures and based on whether you can or can't draw. I want them to tap into the endless possibilities that art has to offer and run with it in their own direction.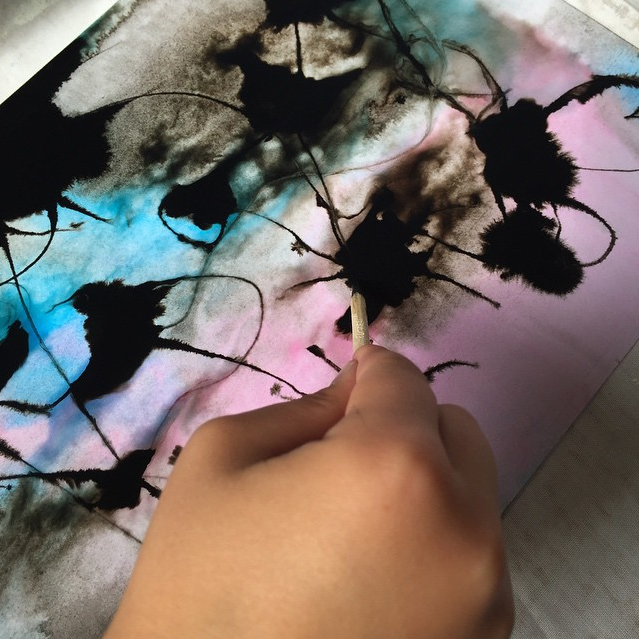 4. You must be pretty busy having 2 kids & running The Kid Creative classes?

How do you approach your own practice these days?
Yes, busy I am but I have enormous support from my husband Stephen, I literally couldn't do it without him. My own practice has been put on hold the last 12 months but ironically I have felt like I have been the most creative and productive that I have been in many years. Designing classes and teaching requires you to be switched on and engaged creatively, i constantly need to be thinking of new ideas and ways of keeping what I am doing interesting and challenging for students, kids will let you know if it's boring . That said when I get the chance I'll make and create things. Recently I did a shibori making course at Prince Charming Original fabrics and created a bedspread for my daughter's room, I loved it.
5.

Who inspires you?
I
f
i
n
d
t
h
i
s
q
u
e
s
t
i
on
hard
to answer.
Ma
n
y
p
e
o
p
l
e
i
n
s
p
i
r
e
me and for different reasons. Right now, I'd say my students. They inspire me to want to continually create and be the best teacher I can be for them. My father Tony who passed away, will always inspire me. He was left a single dad to two girls aged 14 and 6, worked full time and didn't get a break. His love and selflessness taught me a lot, I wish he had lived long enough to meet his grand daughters.
6.

B

e

i

n

g

a

s

e

l

f

-

e

m

p

l

o

y

e

d

c

r

e

a

t

i

v

e

can seem

i

d

y

lli

c

from the outside. What's the hardest part of your job? And how do you overcome it?
A
cc
oun
t
s
,
nu
m
b
e
r
s
,
the non creative stuff. I need an accountant, I'll overcome it when
I
get a good accountant.
7.

What

i

s

your proudest career achievement
H
a
v
i
n
g
my work selected in the Sulman Prize in 2011. I showed some new work I was creating for a solo show to a friend, she said, you have to put this in the Sulman Prize. I'd never entered it before,so when I got the call I was shocked. I'll never forget watching Margaret Olley standing looking at my work for a brief moment, she probably hated it but i don't care. My proudest moment was taking the kids into see it and thinking, I hope they realise in their future absolutely anything is possible if you put your energy and heart into it.
8.

W

h

a

t

'

s

the bravest thing you've ever had to do? (In life/work/ anywhere?)
B
r
a
v
e
can mean
d
i
ff
e
r
e
n
t
t
h
i
n
g
s
to different people and it's relative. Listening to your
gut instinct, not bowing to expectations of who you should be but listening to who you want to be. Not being rigid, I have always taken risks, love adventure, not just in travel but how I approach life. Knowing you don't have to be "one" thing, you can be many. Living life passionately, living life truthfully, living life with integrity, living life compassionately. As a mother, as a woman, not comparing yourself to others, do it your way because your way will work for you and sometimes it doesn't but that's ok too. Life is short, live it, love it, respect it, with no regrets, I think thats pretty brave.
9.

W

h

a

t

'

s

new / on the horizon for Peta Morris?
I
am about
to launch adult workshops in September which I am excited about. Im also talking on a panel at a Mother Artists Forum facilitated by Lilly Blue from Big Kids Magazine at Manly Art Gallery as part of the Manly Arts Festival September 24th. I will also be working with Lilly on "The Big Draw" at Manly Arts Festival.
Next year I'm going to study ceramics part time which I have been wanting to do for years. We are taking the kids on an adventure next July to the Galapagos Islands, trekking in Machu Picchu and the amazon and I am going to do a bird watching tour in the mountains of Ecuador on my own for a day. Did you know Ecuador has over 132 species of Hummingbirds! I can't wait for the inspiration that adventure will bring.
10.

I

n

your view, what's the state of the creative scene right now? Has it changed from 10-15 years ago?
Yes its changed so much. 15 years ago "craft" was a dirty word, now we have literally been "craft bombed" and I love it.
I
t
h
i
n
k we are at a very interesting time. Craft and design are huge and the demand and trend for handmade is really influencing ways people want to make and create. I think it's really positive that people are appreciating technique and craftsmanship in products they want to buy. In regards to exhibiting artists, it's tough, we need patrons and lots of them or more money in arts funding but alas no chance of that at the moment. I can't wait to see what happens in the next 10 years!
A big Thanks to Peta & her husband Stephen for welcoming us into their home & allowing us to explore.
Find out more about Peta's classes on her website www.thekidcreative.com
All images are courtesy of The Kid Creative unless otherwise stated.
* Images are by YOU ARE BRAVE ** Image by Leith @ YOU ARE BRAVE